Galway and the Spanish Armada
The first GAHS lecture of 2019 will be given by Peadar O'Dowd who takes a look at the sorry events surrounding the fate of the men and boys of the Spanish Armada in Galway. Around 300 Spanish sailors were murdered by the English authorities and buried in a mass grave at Forthill Cemetery. It is now marked by a plaque unveiled by the Spanish Ambassador to Ireland in 1988 on the 400th anniversary of the atrocity. The lecture will be followed by the society's Annual General Meeting. The event is free of charge and all are welcome. We hope to see you there.
Extract from Hardiman's History of Galway.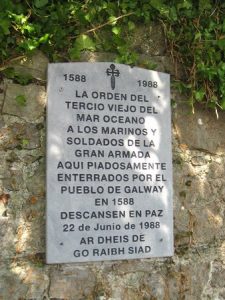 In order the more effectually to satiate his thirst for their blood, and to seize their rumoured treasures, the lord deputy himself [Sir William Fitz-Williams] made a journey into Connaught, where this sanguinary man arrived in June, 1589, and on the 20th of that month he came to Galway. Sir Murrough O'Flaherty, William Burke, the blind Abbot, and several others of the principal inhabitants of Mayo and Iar Connaught, came in and submitted; but were put under conditions to give hostages, disperse their forces, deliver up all the Spaniards and Portuguese to whom they had given refuge, pay fines, and make amends for all spoils which they had taken. Fitz-Williams, while he remained in town, caused several of the Spaniards, delivered up on this occasion, to be beheaded near St. Augustin's monastery on the hill, amidst the murmurs and lamentations of the people and, having thus wreaked his vengeance on these unfortunate men, he departed for Dublin.
In all, 12 ships were wrecked on the coast of Connacht and c. 1,100 survivors were put to death.
Monday 14th January 2019 at 8pm
Harbour Hotel, New Docks, Galway
GAHS Annual General Meeting
A number of vacancies have arisen on the committee if you would like to serve on the GAHS committee please send a short email saying that you'd like to put your name forward to info@gahs.ie. We will get back to you with more information.
The AGM will be held directly after the lecture on Monday 14th. All are welcome to attend.