Votes for Women and Political Citizenship: suffrage campaigners in the West of Ireland.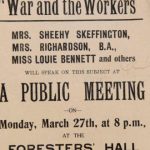 Mary Clancy from NUI, Galway examined how local and visiting suffrage organisers worked to claim political power and to define citizenship for women. It drew upon suffrage life-stories– such as that of Mary Donovan O'Sullivan, long-time editor of the journal – arguing that the campaign opened up new spaces for women's political voices and actions, in Galway and further afield. In so doing, the talk showed how the West of Ireland influenced a social and political question of international significance.
The lecture took lace at the Harbour Hotel, Dock Road, Galway on Monday 10th September 2018 at 8pm.
Note, that all GAHS talks are held on the second Monday of the month during the season.