The 'Irish Brigade' 1690-1715
Dr. Pádraig Lenihan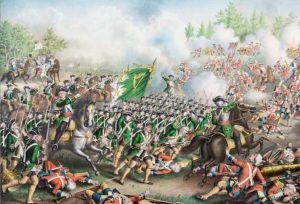 No people', wrote John Redmond in 1915, 'can be said to have rightly proved their nationhood … until they have demonstrated their military prowess. Irish nationalists of Redmond's day, and before, associated bravery on the battlefield with fitness for self-government and found comfort in a heroic narrative that depicted the 'Irish Brigade' or 'Wild Geese' as an élite corps of shock troops. The lecture will try to explain when, where and why this legend began with particular reference to the day-long street fighting in the Cremona in Lombardy in 1702.
Dr. Pádraig Lenihan lectures in history at NUI Galway. He has written a great deal on early modern military history and Monday night's talk is based on an article recently written for Irish Historical Studies.
The talk will take place at the Harbour Hotel, New Docks, Galway at 8pm Monday 10th February 2020.
All are welcome and admission is free of charge.