The re-edition of Amhráin agus Dánta Raiftearaí,
Dúghlas de Híde's celebrated collection of the poems of Anthony Raftery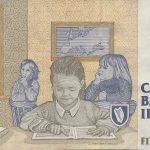 The year 1933 saw the publication of Abhráin agus Dánta an Reachtabhraigh, a collection of the songs and poems of the blind wandering poet Anthony Raftery, a native of Mayo who died near Craughwell, Co. Galway, in 1835.  The book was the work of a remarkable, pioneering Irish scholar and patriot, Douglas Hyde (Dúglas de Híde); five years later, An Craoibhín Aoibhinn (to use the pen-name by which he was widely known) would be chosen as first President of Ireland.  That 1933 book was an expanded and updated version of his bilingual work, Abhráin atá Leagtha ar an Reachtúire; or Songs Ascribed to Raftery, which first appeared in 1903.
Both editions have long been out of print.  Even when available, being in the old Gaelic typeface and pre-standardised spelling, they can pose considerable difficulties for younger readers of Modern Irish.  Recently, however, a thoroughly revised re-edition, in modern typeface and spelling, has been issued by a Galway publisher, Futa Fata, An Spidéal.  Running to over 400 pages, it is the work of Dr Nollaig Ó Muraíle, formerly of the Department of Modern Irish, NUIG (and a former member of the Society's committee and editorial board).
On 8 October Nollaig will give a talk (partly bilingual) to the Society on his new edition.  He will speak about its background, the story of Douglas Hyde and his two editions of Raftery's poetry, and the methodology used in preparing the re-edition, as well as outlining the book's contents and the significance of the poems of the blind poet, 'Raiftearaí an File'.
Dr Nollaig Ó Muraíle, a native of Knock, Co. Mayo, formerly lectured in Irish and Celtic Studies at Queen's University, Belfast, and later at NUI Galway.  Prior to that, he was a Placenames Officer with the Ordnance Survey of Ireland.  He has many publications, in both Irish and English, in various areas of scholarship, notably early Irish genealogies, Irish place-names, medieval Irish annals and the hereditary learned families of Gaelic Ireland. Among his books are his five-volume edition (2003-4) of Leabhar Mór na nGenealach, The Great Book of Irish Genealogies, a massive work compiled by Dubhaltach Mac Fhir Bhisigh in Galway city in the mid-17th century; his 700-page edition (2007) of Tadhg Ó Cianáin's contemporary narrative of the 'Flight of the Earls', Turas na dTaoiseach nUltach as Éirinn: From Ráth Maoláin to Rome. The Exile of Ulster's Gaelic Lords, 1607-8; and his co-edition (2014), along with Gerard Moran, of a 944-page volume, Mayo: History and Society – Interdisciplinary Essays on the History of An Irish County.  
The talk takes place at the Harbour Hotel on Monday 8th October 2018 @ 8pm
All are wellcome and admission is free.