The 'auld stock' take on the 'strawmen':
the 1918 General Election and political change in Galway Town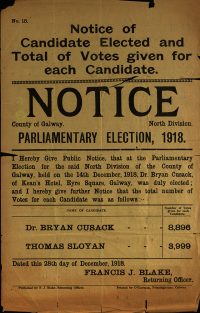 This lecture explores the key political personalities, rivalries and events in Galway Town during the divisive General Election campaign of 1918 which saw Sinn Fein take all four seats in County Galway. The rivalry between the Connacht Tribune's editor, Tom Kenny, and his republican rival in the Galway Express, George Nichols; the departure of Galway's outgoing MP, Stephen Gwynn; the Conscription crisis; and the new republican candidates will all be discussed in detail.
Dr Conor McNamara has written extensively about the history of the Irish revolution and rural society and has received a number of prestigious national awards. In 2011, he received the National Library of Ireland, Annual History Fellowship; in 2015 he was awarded the NUI Galway, 1916 Scholar-in-Residence award for 2015–17; in 2018 he was made a Visiting Fellow at the Moore Institute for the Humanities, NUI Galway. Conor has designed and taught undergraduate and post-graduate courses at NUI Galway and for the University of Minnesota, Dublin Program, since 2015.
The lecture will take place at the Harbour Hotel, Dock Road, Galway at 8pm
Monday 12th November.
All are welcome and admission is free.