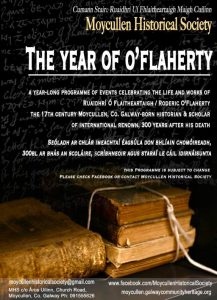 Purchase tickets for the Bunowen Tour 11th November 2018
As part of The Year of O'Flaherty, Moycullen Heritage/Cumann Staire Ruaidhrí Uí Fhlaitheartaigh, in partnership with Galway Archaeological and Historical Society (GAHS)/ Cumann Seandálaiochta agus Staire na Gaillimhe, An Phairc, An Spidéal and OPW at Aughnanure Castle present the Bunowen Tour on the 11th, November 2018.
The tour will be led by archaeologist Michael Gibbons visiting sites associated with the O'Flaherty's at Bunowen Castle (with the permission of the Mac Donagh family) described as one of Ireland's secret historic jems.
Prof. Richard Sharpe (Roderick O'Flaherty's Letters) will give a pre-lunch talk at the Station House Theatre, Clifden entitled 'Ruaidhrí O Flaithbheartaigh and his books'.
Spaces are limited so booking is essential.
Tickets are €25.00ea including lunch at the Station House Hotel, Clifden.
Tickets can be purchased using the "buy now" button below or by phone 087 950 8087
Itinerary Sunday, 11th November 2018
Leave An Fuaran, Moycullen at 9.30a.m.
11.00 Roundstone stop for coffee 1/2 hr
11.30 Bunowen Castle .
13.30 Pre -Lunch Talk Prof Sharpe Clifden Station House. Lunch
15.00-1530 Homeward bound.
SOLD OUT
All the tickets for this event have been sold but if you really want to go and are willing to wait for a cancellation contact us here http://gahs.ie/contact/